Specially formulated for sporting activities. Rub before and after sporting activities. Provides immediate relief for sprains, inflammation, joint & muscle pains. It is smooth on the skin, non-greasy, odourless and no hot or cooling placebo sensation.
What is Urah Micellar Transdermal Technology?
Urah Micellar Transdermal Technology is a proprietary stable emulsion matrix capable of encapsulating and delivering therapeutic concentrations of drugs, supplements and natural extracts seamlessly through the skin, invented by Urah's group of scientists based in Singapore. Urah Micellar Transdermal Technology consists of micro-encapsulation of the active ingredients in a stable emulsion matrix (Obalin®) capable of diffusing through the skin seamlessly.
Urah Micellar Transdermal Technology is based on its bio-surfactant technology which is patented in the US (US Patent No. 6846916), Japan Patent No.: 4580234 and Singapore Patent No.SG 102614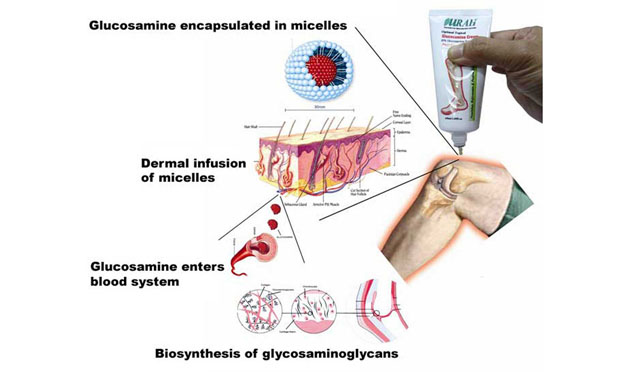 Urah Singapore has been able to create a number of clinically proven transdermal products such as Joint Health Micellar Glucosamine (for osteoarthritis and general body pains) and Bone Health Micellar Bio-Calcium (for osteoporosis, osteoarthritis and general body pains).
Click here to view the Singapore Clinical Report on URAH Micellar Glucosamine Cream on the URAH website.
Click here for information on how to tell the quality of Glucosamine based creams.
Beware of false claims! Click here to see some common false claims.